Irish Car Seat Regulations Explained
Posted: 03 December 2020
It is the law in Ireland that all children under 150 cm in height or 36 kgs (79lbs) in weight must use a child restraint system suitable for their height and weight while travelling in a car*(RSA.ie). It also states that any rearward facing car seat such as an infant carrier is not permitted in a front passenger seat protected by an airbag.

Safety Standards:
All car seats that we sell at Kaliedy have passed European Safety Standards. There are two separate safety standards that are currently in place:
UN R129 (also known as i-Size)
In order to check what safety standard you have there will be an orange label located on the underneath or side of the seat. This label is required by law.

Here is what the label will look like: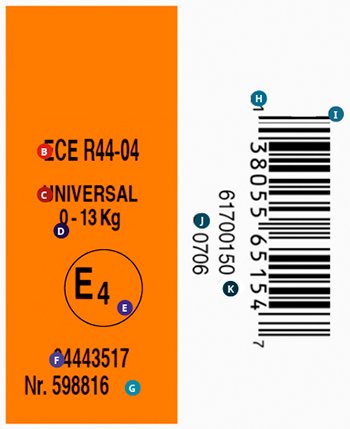 UN R129
This regulation was implemented in July 2013 with the intention to make car seat fitting easier, improved side impact protection, and to keep children rearward facing in cars for longer.
These seats are also referred to as i-Size

Any car seats that are i-Size have the following improvements to car seat safety:
They are all isofix seats, reducing the risk of incorrect fitting
These seats are designed to keep your little one rearward facing up to a minimum of 15 months old
The classification is based on the height of your child
These seats are subject to side impact testing
ECE R44
This regulation is separated out into groups that are determined by the weight of your little one.
These groups are:
Please take care to check the orange label on the seat before purchasing, looking for the numbers that appear after the R44 as the numbers R44-01 or R44-02 are no longer legal and should not be on sale since 2008.

Comparison Table:
| | |
| --- | --- |
| ECE R44/04 | ECE R129 (i-size) |
| Classification based on child's weight (in kg) | Classification based on child's hight (in cm) |
| Categorised by groups (Group 0+, 1, 2, 3) | No groups |
| Child can be forward-facing from 9kg | Child must rear-face to a minimum of 15 months |
| Can be used for seatbelt or ISOFIX seats | Can only be used for ISOFIX |
| Rear and front impact testing | Rear, front and side impact testing |
| P dummy used in crash test with 4 sensors | Q dummy used in crash tests with 32 sensors |
We hope this helps in some way to explain the standards that are legally required in Ireland. Be sure to check any seat that you purchase has the required safety standards.