Please see the product detail page for the specific delivery lead times for certain types of products which are delivered direct to you via a separate courier.
Delivery Exclusions & Shipping
Delivery is FREE to NI and ROI on all orders over €60.
Delivery is €6.00 on orders below €60.
Delivery to mainland UK (excludes islands) is €10 but free for orders over €100. Rest of UK delivery has an approx. 48 hour SLA.
During peak trade periods there may be delay in delivery of orders placed. Please allow extra time for your order to be delivered.

*Next day delivery
Whilst best efforts to meet the delivery timelines will always be made, delivery may take slightly longer during peak trading periods such as sales, promotions or clearance periods.

Please note not all products are sent direct from our warehouse. On such products this will be stated & a delivery time frame will be mentioned. If you are unsure of a products delivery time please message us via the whatsapp bubble or email us at support@kaliedy.zendesk.com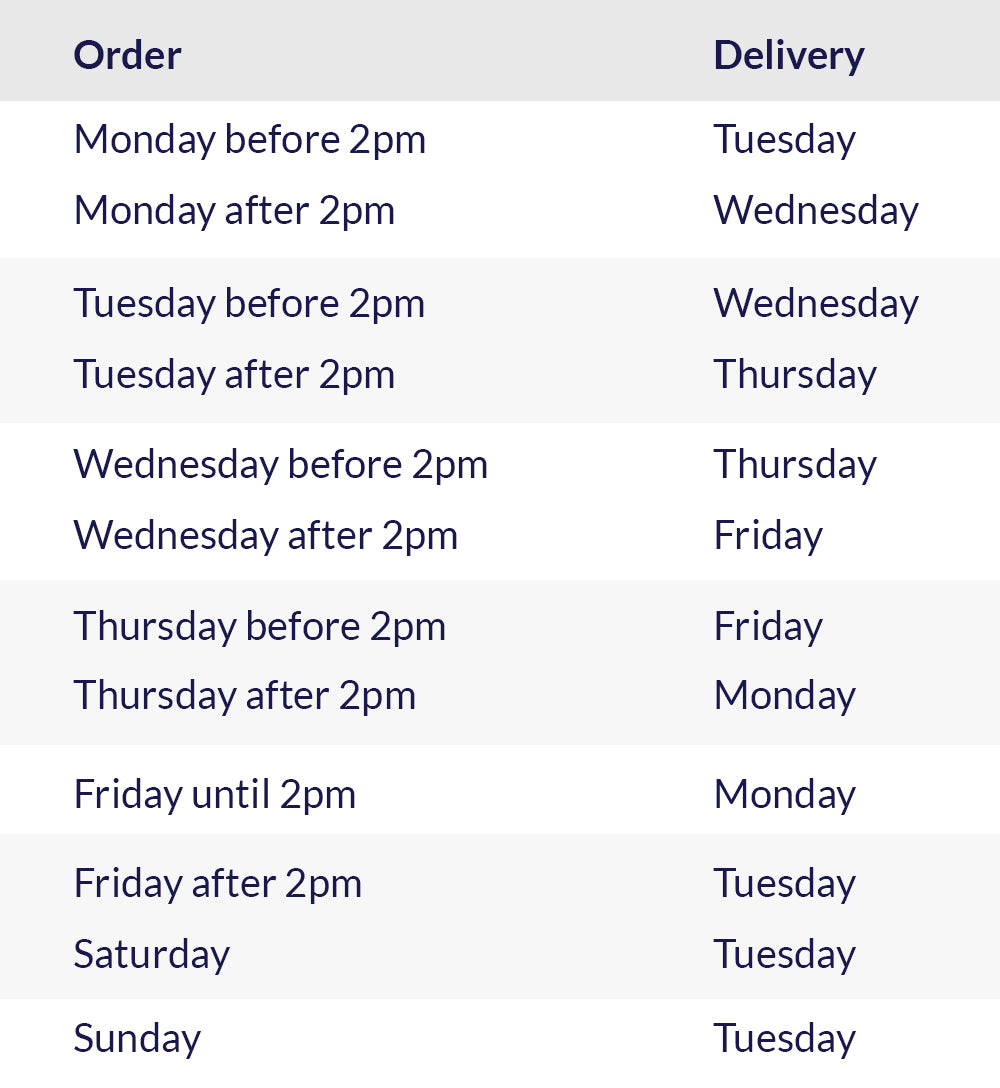 Collapsible content
What delivery company do Kaliedy use?

Kaliedy.com use DPD for all of our website orders. DPD require signed delivery for all orders ensuring your order is fully traceable and safe. Please see the product detail page for courier information for certain types of products which are delivered direct to you.
Do DPD contact prior to delivery?

Yes, DPD will text the mobile number provided on your order with an estimated delivery time frame they aim to be with you on the day of delivey. If this doesn't suit you can rearrange delivery directly with them via the same text.
What happens if you are not home when your order is delivered?

If you are not in when DPD attempt delivery, DPD may leave your delivery in a safe place / neighbour where possible to avoid you having your order delayed if you haven't re arranged a different delivery date.

DPD Pick-up Service for Delivery and Return

Deliveries can be routed directly to your nearest DPD Pickup Point for convenience and flexibility. With almost 600 DPD Pickup Points located throughout the country there's always one close by.
You can organise delivery to Pickup in a variety of ways

Sign up for ParcelWizard today and you can arrange for any or all of your deliveries to route to your favourite DPD Pickup Point so that you can collect it at your convenience. Opt for the Pickup delivery option when you receive your Predict notifications about impending delivery.

Find your closest Pickup Point here.

How it works

If your consignment is scheduled for delivery to a Pickup location, you'll receive a text and email from us on the day delivery is due telling you the time from which you can collect your parcel and providing you with a PIN number.

On arrival at the Pickup Point, simply give your name to the store representative who will retrieve your parcel. He/she will ask you for your PIN number which will be entered into the store's secure tracking device.

Provided that the PIN details match the parcel information, your parcel will be released and you're on your way. Your parcel will be held for collection at the Pickup Point for 5 working days.
Split deliveries

Please note in some cases your order may be sent in more than 1 parcel. If you do not receive everything you were expecting in your delivery, please wait a further 2 working days before contacting us as the goods will be in transit.
Email me when available

Items with an "Email me when available" option are normally expected to be available in 4 to 8 weeks. If you request an email we will send one to you as soon as the item becomes available to order on the website.
What to do if you have received incorrect or missing items

In the event that you have received missing or incorrect items please contact support at support@kaliedy.zendesk.com. Please quote order number and items affected.
Will there be additional charges on my order due to Brexit?

We have no additional charges on our orders for here in Ireland or Northern Ireland. There will be additional charges added to your order if ordering for delivery in Mainland UK.You will be required to pay this before delivery & it won't be added to your order during the checkout process.