We have carefully selected
not only must-have products but also ensured the selections are best in their class.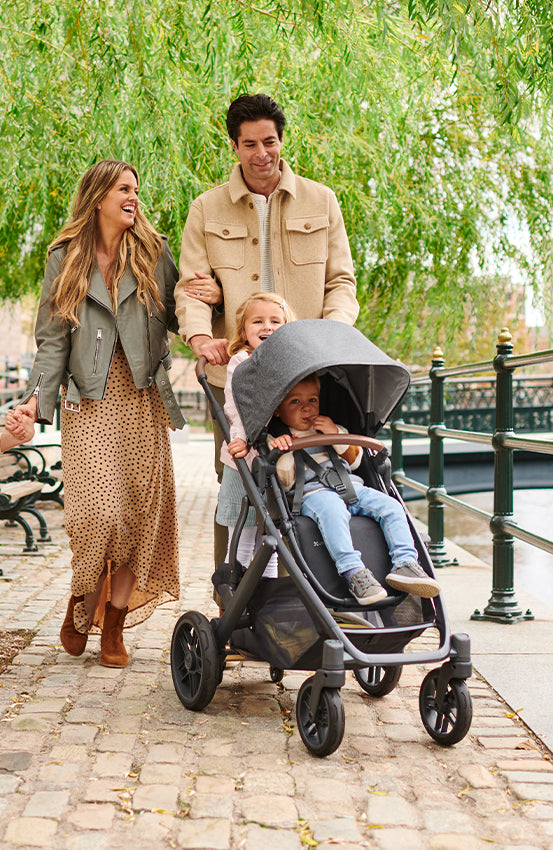 Uppababy Vista V2
Use the carrycot, which is included, until baby starts sitting up. The carrycot ensures baby can remain lying down and in great comfort with a UPF 50 extendable hood and breathable base for excellent circulation. The carrycot has a Raincover, Insect net and storage bag included.
After 9 months you easily switch to using the Toddler seat which can be either parent or world facing and will see you through until 4 years of age. The Toddler seat has a UPF 50 extendable hood, Raincover and Insect net. The seat has multiple recline positions. The chassis is light weight has an extendable handle and a large shopping basket. The folding mechanism is extremely straight forward.
As if all this wasn't enough the huge added benefit to this pushchair is that if number 2 comes along you can change this into a double buggy by simply buying 2 extra adaptors for roughly €50. Furthermore there are a wide range of accessories you can purchase to personalise your buggy for your various requirements (buggy board, cup holder, organiser, etc.)
(Choose from 9 different colour options)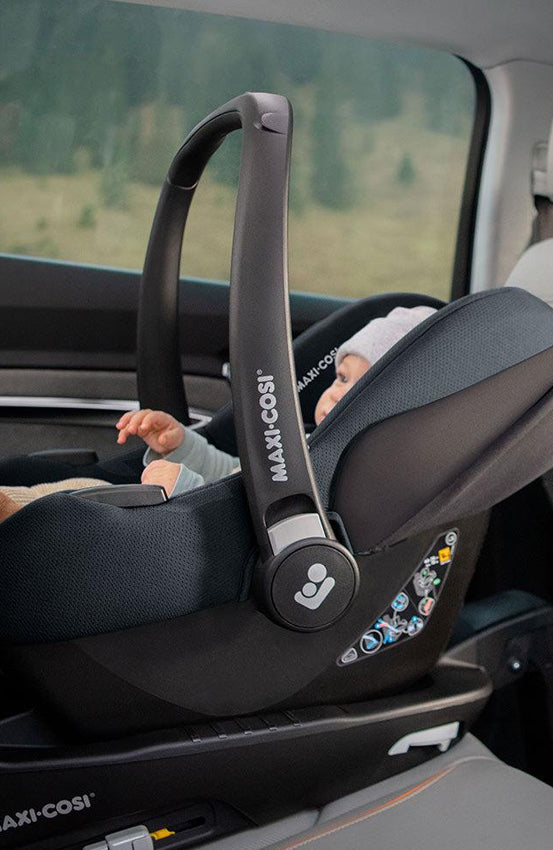 Maxi Cosi Cabriofix iSize & Base
(suitable from birth to 75cm (approx. 15months)
The Cabriofix i-Size car seat and Cabriofix i-Size car seat base are R129 compliant and also perform excellently in the independent ADAC report on safety and usability. Key given this will be the seat you bring your little one home from the hospital in. They are excellent value and the Carbriofix i-Size remains one of the lightest seats on the market which is an important consideration as you'll be using this for the first 15months at which stage your little one could be nearly 10kgs.
Also included is the Kaliedy Large Rear View mirror. As with all Kaliedy own brand products the packaging contains no plastic and is 100% recyclable and this key item means you can key your eye on your little one whilst they are rear facing in the back seats.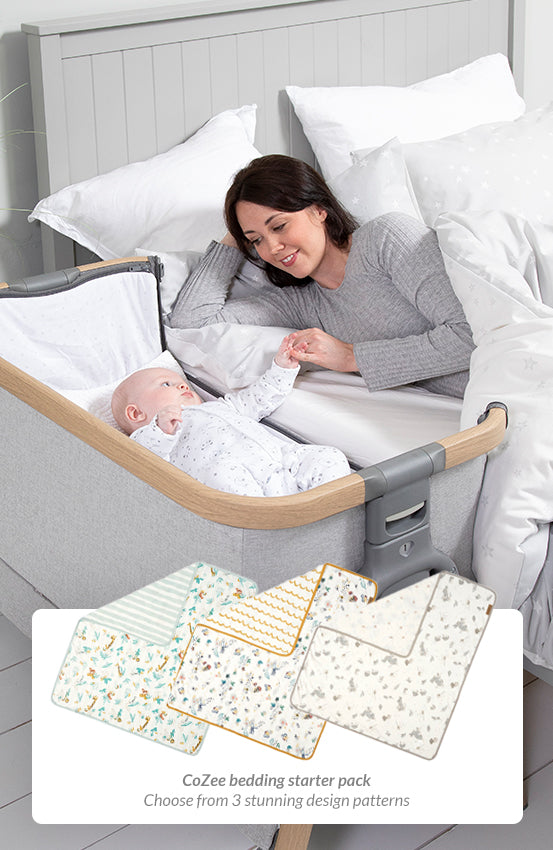 Tutti Bambini Cozee Bedside Crib & Starter Set
(suitable from birth to 6mths approx.)
Babies sleep on average for about 17 hours a day with 8 of those being at night (you hope) so where they sleep is one of the most important considerations to make in your purchasing journey. We've selected the Tutti Bambini Cozee Bedside Crib as this allows you to have baby sleeping safely alongside you. The crib is suitable to approx 6 months of age or when baby is able to pull themselves up. Its easily assembled in 2mins with no tools required and with a handy storage bag can easily be transported for travel. You can use as a bedside crib or a stand alone crib. The lining is 100% coton and easily washable. All this and it looks fantastic too.
Also included in the Kaliedy Newborn Bundle is the Tutti Bambini Cozee Starter Kit which has two fully tailored fitted crib sheets and a matching coverlet that is lightweight and reversible to keep baby comfortable and cosy all night.

(Choose from 2 different colour options on the Cozee Bedside Crib & 3 stunning design prints for the Cosee Starter Kit.)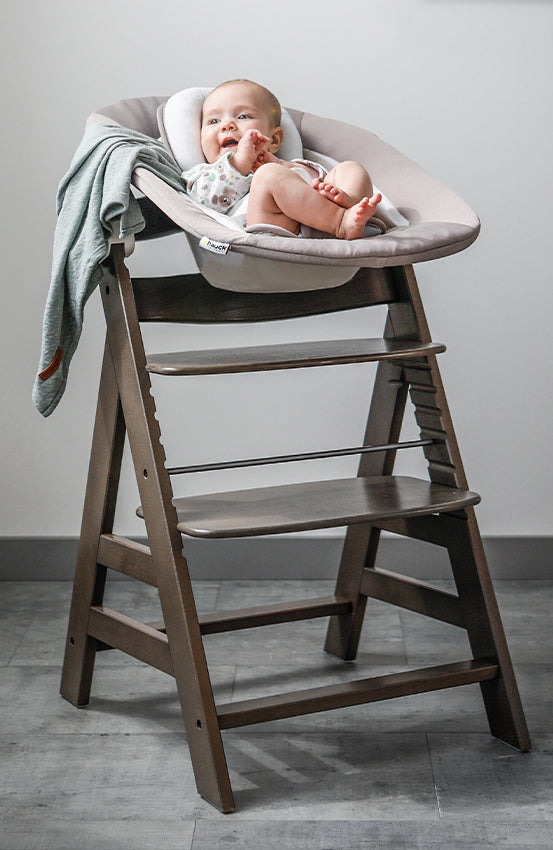 Hauck Alpha+ Highchair + Bouncer
(suitable from birth with the Alpha Bouncer to +7 years or 90kgs)
The Hauck Alpha Highchair is included in the Kaliedy Newborn Bundle as it is our number one rated chair for very good reason. It's fantastic value and comes in a choice of colours. The Alpha bouncer simply clicks onto the chair allowing you to elevate baby up from the floor which is great to have them at the table during meal times and also to keep away from interested pets. Once your baby is out the bouncer the chair functions as a normal highchair and has a number of different accessories available to personalise such as choice of trays and seat pads. Finally, once you've finished using as a highchair the seat becomes a stylish chair which can be used up to 90kgs.
Choose from 5 stylish Alpha+ Highchair colours.
Hauck Alpha Bouncer
As mentioned newborns sleep about 17 hours a day. If you're lucky enough to have had 8 hours at night there's another 9 hours of sleep to be had during the day. Your covered when out for walks with the Uppababy but you'll need somewhere to sleep where you can keep an eye on them during the day. The Hauck Alpha Deluxe Bouncer is the perfect solution as its extremely comfortable and can be easily moved around the house. It includes a toy mobile and a padded newborn liner.
(Choose from 2 different Bouncer colour options)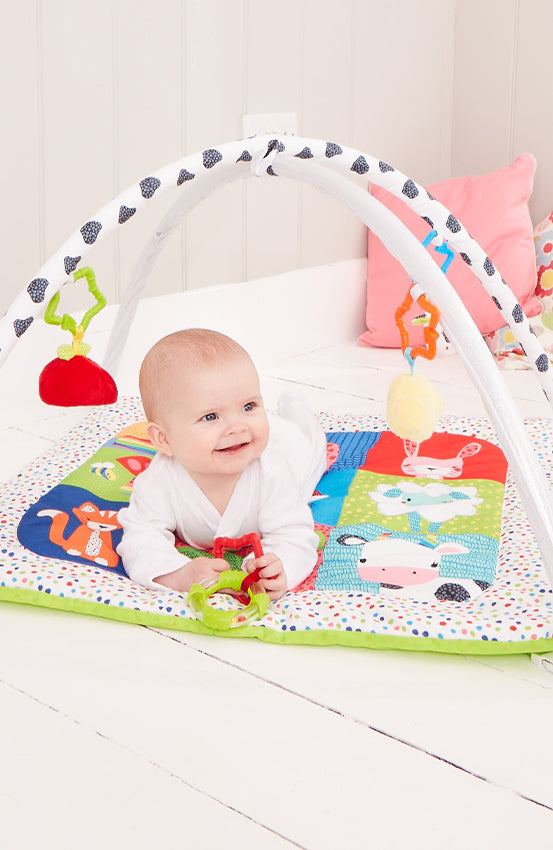 Early Learning Centre Blossom Farm Playmat
(suitable from birth to 2 years approx.)
When not asleep or feeding you'll want to have some playtime. The Blossom Farm Playmat is the perfect item for this. Designed and made by The Early Learning Centre you re guaranteed that both play and development are taken into equal consideration, with toy arches in best colours for hand eye development. The comfy mat then can used for tummy time and finally a playmat. All the toys are easily removed from the play arch.