Clevamama
Regular price
€78,95 EUR
Sale price
€54,95 EUR
Unit price
per
OFFER
Coming Soon
Himalayan salt crystals are renowned for their sleep-assisting properties, which helps to create a calm, restful sleep environment for your baby by acting as a natural air purifier. This reduces the chances of allergies and irritations that cause respiratory issues among babies. When a baby is congested, humidifying the air with a cool mist can help to ease upper respiratory symptoms, soothe sore throats and help dry itchy skin while your baby sleeps.
The soft "melatonin friendly" glow from the lamp works as a comforting night light, emitting a warm amber light throughout the room.
 Convert your humidifier to an aromatherapy diffuser by simply adding a few drops of essential oils to the water to aid relaxation and promote sleep.
Essential oil use
One of the things we love about the new ClevaPure Salt Lamp is that you can add a few drops of essential oils to the diffuser to fragrance the air in your little one's room.
 But what oils are best to use? Here are a few suggestions, along with some 'dos and don'ts' of using essential oils.
 Lavender: This is the 'go to' oil when it comes to promoting relaxation and sleep and will help in settling your little one down for the night. It's good for all ages.
 Chamomile: Another lovely oil known for its calming properties. Chamomile helps to soothe fussy/emotional little ones, and relaxes them, ready for sleep.
 Orange: This is a bright, uplifting oil which can help to reduce stress and anxiety. It's also said to enhance creativity and imagination. Other oils distilled from the orange tree, such as Neroli (from the orange blossom) and Petitgrain (from the leaves of the orange tree) have the same calming and uplifting properties.
 Bergamot: Another citrus-related oil. It's zesty, bright and great for using when your little one has a case of 'the sads'. Maybe not one to use right before bed!
Care when using essential oils
While essential oils are a wonderful tool for wellbeing, it's important to use them properly. Oils should never be used topically (on the skin) unless diluted with a carrier oil or cream and should NEVER be used on babies under 3 months because their skin is so permeable.
Don't be tempted to use camphorated oils when your little one has a cold as they can cause irritation. The Himalayan salt crystals and the moisture diffused into the air by the lamp will help to relieve congestion.
Avoid the likes of strong oils around babies and toddlers like Eucalyptus, Tea Tree, Clove, Cinnamon, Peppermint, Fennel, Rosemary.
Do choose essential oils from reputable suppliers to ensure purity. Cheap oils can be mixed with chemicals and artificial fragrances. Brands such as Tisserand and the Holland and Barrett range are reliable choices.
Always follow the safety guidelines when using the ClevaPure Salt Lamp and keep essential oils out of reach of children.
Features and benefits

Night light with benefits of Himalayan salt
Humidifier to help ease sore throats and stuffy noses
Add essential oils to aid sleep and relaxation
Whisper quiet for the nursery
Auto-stop when the water runs out
Three adjustable settings for light and mist levels
Up to 6 hours on continuous operation
Up to 12 hours on intermittent operation
2 settings, one for night light & one for mist
Night light can be switched off when mist setting is on
While using the nightlight with the mist the lamp will automatically shut off when the reservoir runs dry
If needing to use just the nightlight, it's recommended to just use the light setting
Comes with extra Himalayan salt rocks
Dimensions: H 20 x W 12.8cm
Share
View full details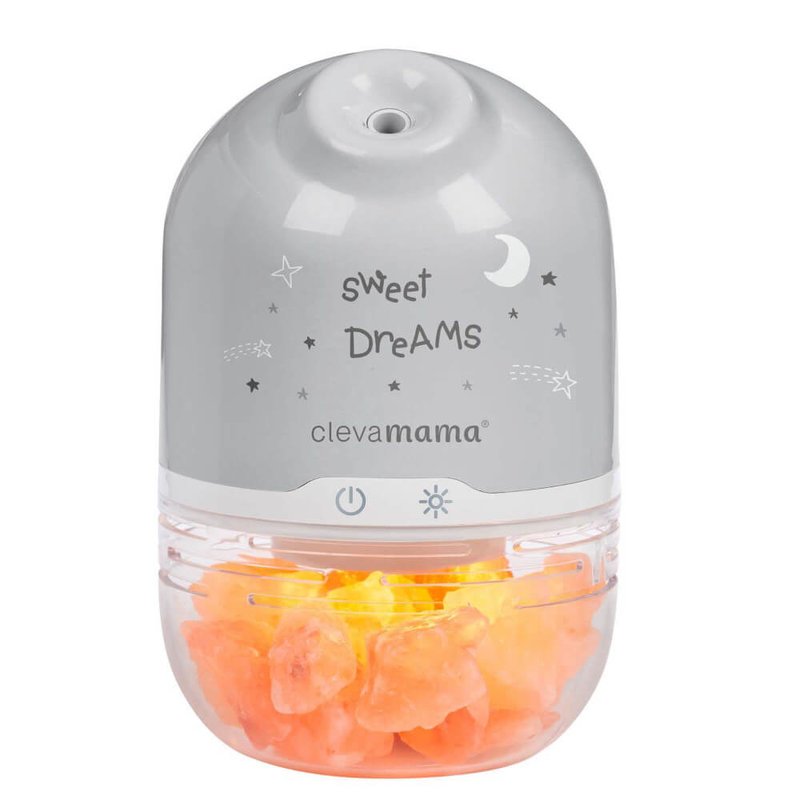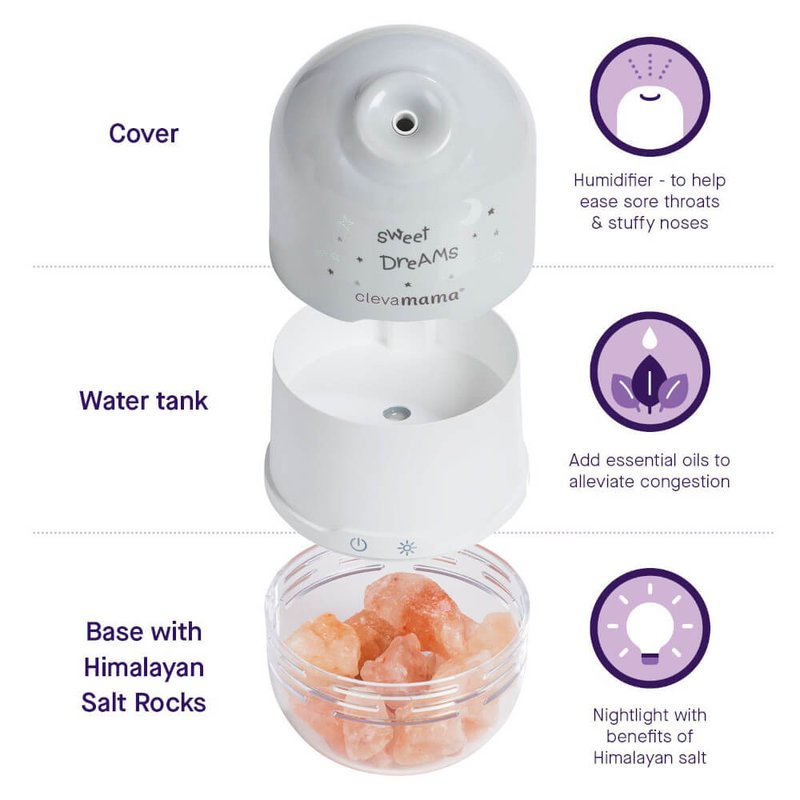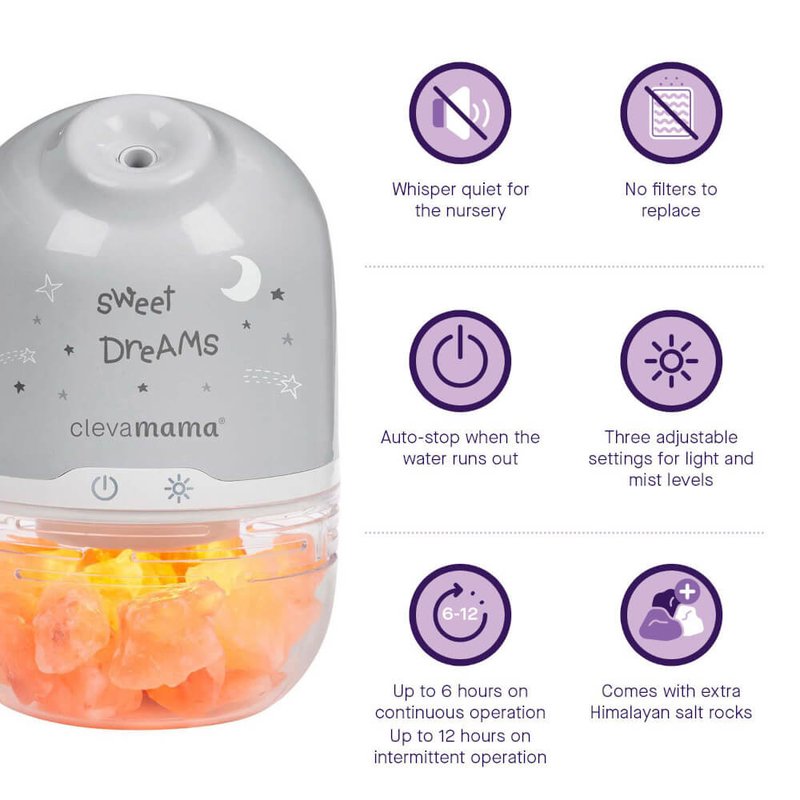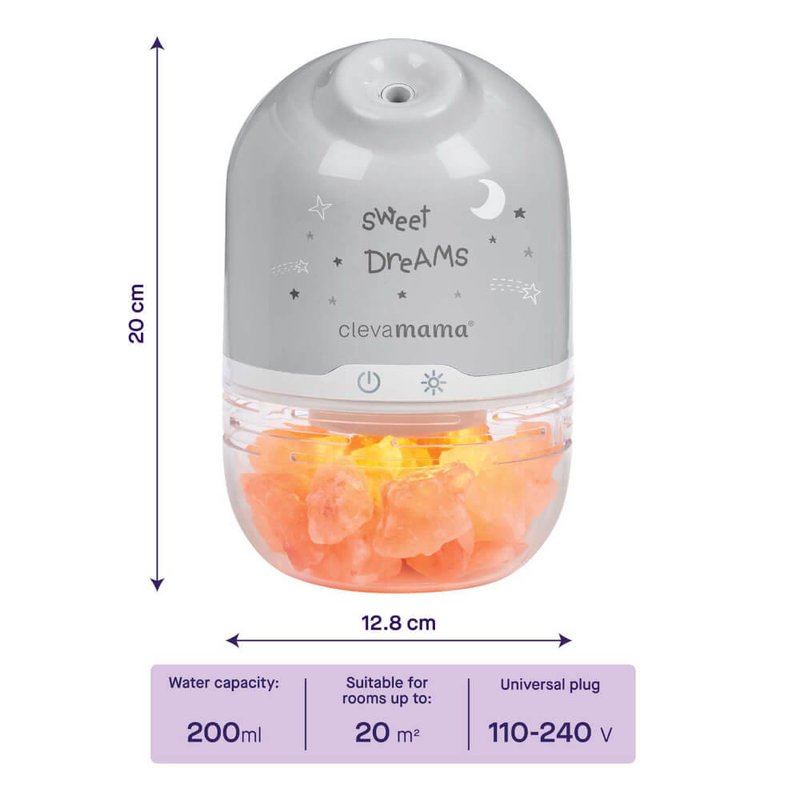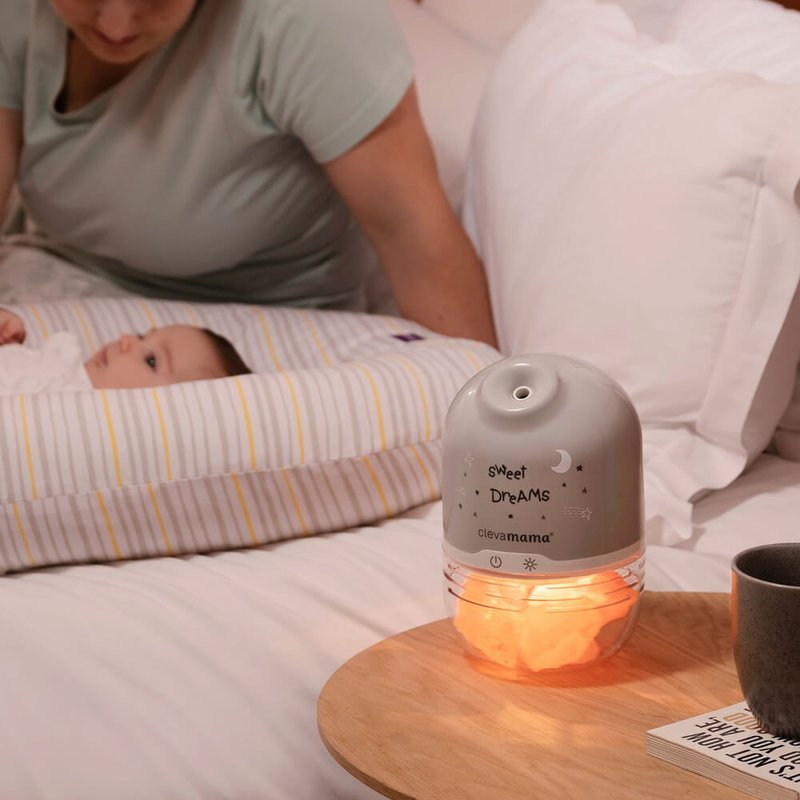 DELIVERY

Next Day Delivery* is FREE to the ROI and NI on all orders over €60.

LEARN MORE

PRICE MATCH

Found it cheaper? Message us the link on WhatsApp and we will come back to you.

LEARN MORE

RETURNS

Return your item within 28 days. Please see our returns policy for exceptions.

LEARN MORE