Giving Birth During a Pandemic
Posted: 12 January 2021
When I found out I was expecting in April, we were in our first lockdown. In my naivety it never occurred to me that we would have to attend appointments alone and the thoughts of restrictions for labour hadn't crossed my mind. As my pregnancy progressed and I attended appointments and my anomaly scan alone,the fear and anxiety started to creep in. Seeing partners sitting in the hospital car park, anxiously waiting for the news that they could join their other half became common place. I became aware that the reality of labour might be a very different experience than my previous two births.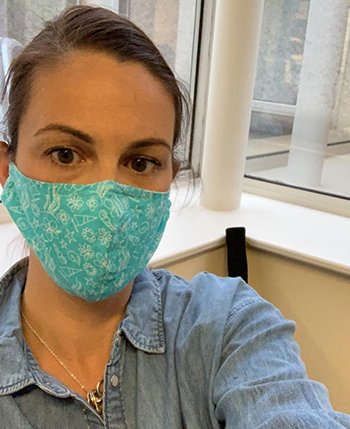 It turns out a pandemic will make you realise a few things about yourself; that you may not have known previously. I'm aware I like to plan, but the absolute loss of control to do with any part of our lives seemed to make it glaringly obvious that I'm a control freak. I like to plan ahead and know what's going to happen, when it will happen and how. So labour doesn't really sit well in that category.

My due date was December 14th but as the final weeks of my pregnancy closed in, I was becoming increasingly uncomfortable. I was diagnosed with Rheumatoid Arthritis in February, it's pretty chronic but as I'd fallen pregnant in April, I hadn't begun a treatment plan. I'd managed it fairly well through the pregnancy but in the last few weeks the flare ups were becoming frequent and very painful.

When I hit 35 weeks pregnant, Braxton hicks started to appear. I went into early labour in both of my previous pregnancies, so I knew I would probably be the same this time around. 38 weeks was my goal. After a checkup at 37 weeks it was decided that I would be induced on December 3rd but my consultant told me I was likely to go at any time in the week ahead.

Knowing that I had a final date gave me a huge sense of control or relief. I rang Joey, my husband, leaving the hospital and gave him the update. All the talk and sense of unknown about the restrictions seemed to be at ease, for a short time anyway.

That night I was awake most of the night with contractions starting and stopping. The reality that I may not have all the control and an induction became very real. I became really anxious. The part of the restrictions that I struggled with most was leaving Joey in the car park and walking by myself into the hospital. I don't know why, but that was a bit troubling me. Maybe the idea of feeling alone and the unknown of when I'd see him or what would happen between leaving him and getting into established labour. I'm familiar with The Coombe, I'd had two children there before. I felt extremely lucky to have the knowledge of my previous births. I feel for any woman on her first journey through pregnancy and birth. It's daunting at the best of times.

After a long night of starts and stops, I was showing lots of signs of early labour but was struggling with the unknown of the restrictions and not being able to control my journey. They're not very helpful emotions for a heavily pregnant women. So I sought out some support, I had really tried to suppress the worries I was having as I felt silly almost. I'm a grown up, I have two kids. I've done this before. I was almost afraid to admit that I needed some support but I will say, if like me, you're feeling like that, please do. It's really helpful and you will one hundred percent feel the better of it. We all need to put out our hands sometimes.

I know the midwives are happy to answer all your questions and fears. The assessment unit is there and happy to help and of course in your visits, ask and chat to the staff. I'm sorry I didn't ask questions sooner. I witnessed the midwives first hand in the assessments unit taking calls and talking nervous expectant mums through everything.

I'm incredibly lucky to have a sister in law who is a midwife, so I rang her and poured out everything that I was worried about with her work hat on and she talked me through the scenarios. I felt instantly better, I felt like I'd regained some control.

I didn't go into labour myself during those days and on December 3rd, I headed into the Coombe to be induced. We have two children who are six and four. So Joey stayed at home and dropped them to school with plans to follow me to the hospital, when I had news of a plan and hopefully a spot in the labour ward.

My brother dropped me off at the hospital, he distracted me from the tears that were welling up in my eyes as we drove along on the empty Dublin roads and I tried not to think of my earlier fears and walked in with my labour bag telling myself that today was going to be a great day.

On arrival you go through your Covid checks at reception. I got checked in and once assessed, I was brought to the labour ward. My induction was an Oxytocin drip. So in this case, I went straight to the labour ward. It depends on your induction as to whether you start on the ward or if you go to the labour ward. As we walked along to the labour ward the midwife said that I was good to call Joey and let him know he can come up to the labour ward.

Once I arrived at the labour ward and met my midwife, Rachel, any worries or fears I'd previously had disappeared. Joey was beside me and Rachel talked us through everything. She was amazing through every single moment of my labour.

Joey wore his mask for the time he was there. Everyone follows Covid regulations and yet even with masks, hand sanitising and a pandemic going on; It felt so relaxed and so safe.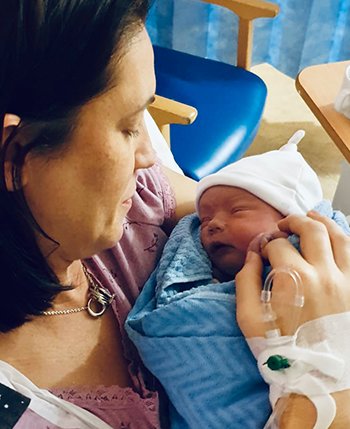 Sadie Donnelly arrived into the world on December 3rd 2020.

When the time came, we packed up to leave the labour ward. I knew then we would have to say goodbye to Joey and I started to feel a bit overwhelmed and anxious as I sat holding Sadie, masked up and ready to move to my room.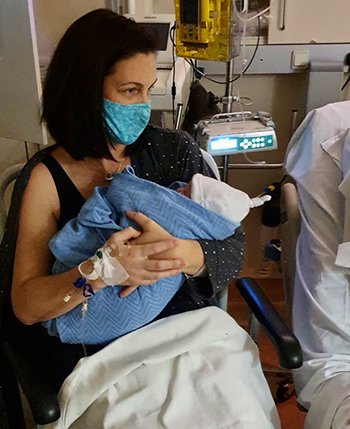 We waved Joey at the lift as he wasn't allowed to return to the room with us. I was afraid I'd burst into tears saying goodbye but the porter was cracking jokes, the midwife offered reassurance and Joey gave me the "it's all good" look. The minute we arrived in the room the midwife greeted us and had us both settled in. I relaxed and again felt very secure. Never underestimate the power of kindness. We felt it in spades during our stay.

The restrictions at the moment mean one person can visit you during the allocated times. Joey was parked up and standing at the door 30 minutes before visiting hours, neither of us wanted to miss a minute of the time together.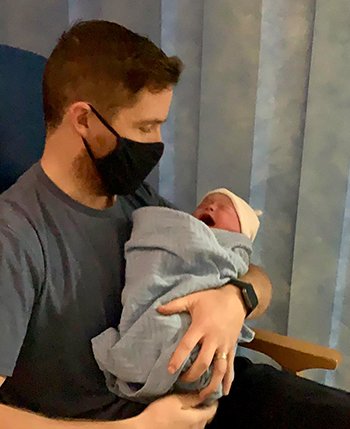 Although I feared the restrictions, the reality was a lot better than I anticipated. The staff know that everyone finds it hard, they can't do enough to care and support. I found comfort in knowing that I could relax in my newborn bubble. There was no chance of a surprise visitor turning up at my bedside and that at 1.30pm my masked husband would pop his head around the door.

There's so much uncertainty at the moment and if like me, you're finding the restrictions or the unknown is causing you worry or anxiety, please ask a midwife or a healthcare provider in your hospital. They will give you the support you need to help you as you navigate the journey and good luck. Wishing you all the happiness in the world.