The Not So Straight Road of LGBT Parenting in Ireland
Posted: 14 October 2020
In more ways than one, parenting is not always a ​straight​ road. (Thank you, yes I'm very proud of that pun!)

My name is Ranae and I'm a same sex parent to two beautiful daughters with my wife Audrey. We've been together for 12 years this month, and one of the first things we did (besides almost immediately moving in together), was talk about having kids. ​It was never a 'yes' or 'no' question. It was rather 'how' and 'when'?

In 2015, we knew that there would soon be a marriage referendum in Ireland, so we decided then to start planning our family. One night over a glass of wine we joked, 'wouldn't it be so cool if there was a way of using your (Audrey's) eggs and me carrying the pregnancy?' Well that joke turned out to be a reality and the path that our lives would take. It turns out that yes indeed, there is a way to do that and it's called Reciprocal IVF. It's a fertility treatment process where the eggs of one partner are collected and fertilized with donor sperm, then the resulting embryo is transferred back to the other partner who then (fingers crossed) carries the pregnancy to birth. Isn't science amazing?

There was never a discussion about who would carry the baby. It was a given between us that I would be the one to get pregnant. I had always wanted to be pregnant, and while Audrey knew she wanted to be a parent, the idea of being pregnant wasn't top of her list of things she wanted. Lucky for her she married someone who would carry her babies. We first attended Sims fertility clinic in Dublin, where we learned that while they were able to treat us as a same sex couple, that they weren't allowed to do Reciprocal IVF as they did not have a licence. Unless we wanted to do a standard IVF with my own eggs, we would have to go abroad. This was a bit of a setback, but like so many things in our life, we were used to things not going to plan. We decided soon after that we would travel to a clinic in Spain to do the treatment. We were certain that Reciprocal IVF was the way to go for us and if that meant being forced abroad, so be it.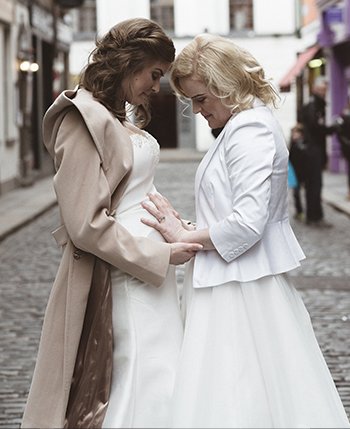 In the meantime, marriage equality had passed (yay!) and so we were also eagerly planning our wedding. We really just wanted to get started on making our family, so while planning the wedding, we decided to try for a baby. And that's how we found ourselves spending the month of September 2015 in Barcelona, on our baby making adventure. No one knew that we were doing this, and it was our special little secret. The fertility drugs were hard on both of us... but it was halved, so that made it easier. Reciprocal IVF means that the normal IVF treatment is shared between both partners. Thankfully being in such a gorgeous climate and having nothing else to do but take walks on the beach and decide what to cook for dinner made it that bit easier. We had a very early miscarriage after our first embryo transfer, which was really disappointing. But we decided to keep trying until it worked.

We were so lucky that on our second embryo transfer I got pregnant, leading to the birth of our first daughter Ava. Tumbling into motherhood in August 2016 was a complete shock to the system. No matter how prepared we thought we were, nothing can truly prepare you for this. Does everyone remember the moment when you arrive home from hospital with a tiny newborn that you are completely responsible for? It's exhilarating but terrifying.
I remember the early days of trying to establish breastfeeding as one of the hardest things I've ever done.
There is so much 'unknown' in the first weeks and months and one of the best things I could say to any new parent, is to go easy on yourself. No one does it perfectly. No one has it all together. We are all just trying to do the best for our babies.

We settled into our own rhythm of family life pretty quickly, and my wife and I really relished the day to day of being a parent. While I was really 'good' at this whole parenting gig, I definitely made the mistake of losing myself in it a little bit. As a parent, you put everyone's needs above your own. It would take me a few years to figure that out. Looking back on it I can see clearly now- if I didn't take care of myself, how could I be expected to care for my family? These days my wife and I have both recognised how important it is to set aside time for both ourselves as individuals and also as a couple. It's easier said than done... and it sometimes takes a lot of work, but it's something which I believe is essential to your sanity. So do whatever you need to do to make it happen. Even an hour a week can do wonders, trust me.

Fast forward to 2017 when we wanted to try for our second child. We still had some frozen embryos, but despite our efforts we didn't get pregnant. I hate using the word 'fail' when it comes to conceiving or pregnancy. But that's what it felt like at the time. A failure. We regrouped and decided in early 2018 to transfer to a different fertility clinic in Portugal called Ferticentro​. We were not happy with our initial clinic in Spain and wanted a fresh start. That's another thing I've learned over the last few years- if something doesn't feel right, trust your gut and change things until they do.

We spent a month in Coimbra, on another baby making trip. This time was a little different for two reasons. Firstly, we had a toddler Ava in tow, so things weren't quite as relaxing. She was also going through that really fun phase of only eating beige food and not sleeping for more than 20 minutes at a time. So as you can imagine it was a super relaxing trip- not!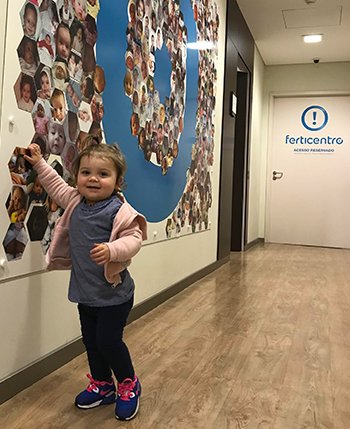 The other reason this experience was so different is because we had decided to blog our journey. That was exciting but also was hard, because there was a lot of pressure knowing that if the IVF didn't work, it wouldn't just be our personal story anymore. It was now very public. We got really lucky again and Arya was conceived on that cycle of IVF.

One of the reasons I got into blogging and writing about our journey, was because there was literally nothing for us to turn to when we had started our journey. We tried to find information about accessing IVF as an LGBT+ person in Ireland and there just wasn't anything for us at that point in 2015. One thing I've found as a parent, is that when you can read or see what someone else is going through, it can bring a lot of comfort and reassurance to your own situation. That translates to all areas of your life, not just the parenting stuff.

My hope has always been that other parents may find our story useful. Whether it's for information on how to stay sane through the IVF journey or how to raise kids and not totally lose yourself in the process- if even one person is helped by our story, then I'm happy with that.

Parenting is not always 'straightforward'. If you've gotten this far in my story, you're probably thinking what a ​normal family we are. And we really are very ordinary. Looking back we never thought of ourselves as different, and we assumed with the passing of marriage equality that we would have the same rights as any other married couple. So it came as a shock to us when, at 8 months pregnant with Ava, we learned that only I would be considered a parent to our kids, and Audrey, would be considered a legal stranger. What a bizarre situation to be in. Married yet viewed as a single parent.

I suppose we never really understood what we were getting into. We thought that we would have the 'normal' struggles of new parents and yet we were thrust into the world of activism and campaigning for our children's rights. I'm not going to lie, the last 4 years have been very hard. Constantly having to ​out​ yourself. Constantly having to tell your very private story. Constantly having to fight for something so basic like a legal connection to your children. It's something that most people take for granted. But here's the thing. Something that you learn very quickly, is that you will literally do anything for your kids. So even though much of our precious time in these last years has been consumed with campaigning, I would do it all again in a heartbeat to ensure that my children, and those like them, are fully protected by the law. We are not at the end of our fight yet. As I write this, Audrey still has no legal connection to her biological daughters. There seems to be an end in sight for us, after a long legal battle, but for so many other children, there is not. And for this reason our fight will not be over until every single child of an LGBT+ parent is treated the same as any other. It shouldn't matter how or where you are conceived or born. Love is love. And love makes a family.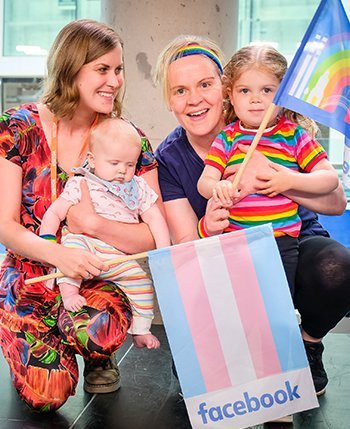 Living through the last 7 months has taught me a lot about perspective and patience. I think it's safe to say, we all have come out of 2020 with a huge shift in how we think. I always knew that my family was the most important thing to me, but now more than ever, I realise that the ​time w​e get to share together is the most precious thing we have. And I don't know about you, but I'm going to do everything in my power to make sure to make the most of the time we have. Our babies and children are small for such a short time. Trust me, I know it's hard to appreciate the journey when you haven't properly slept or showered in weeks. Trust me, of all people, I know. But even in the midst of the madness that is parenting, try to savour the small stuff. It will be over before you know it.​ In it's crazy, messy, unglamourous, every day, glorious beauty.

Ranae x