Everything You Need to Know About Sleep Safety for Your Newborn Baby
Posted: 30 October 2020
The excitement that comes with a new baby is one of the most special things in the world and getting the nursery furniture ready for the new arrival is both great fun and really important. It is fun to pick the paints for the walls and choose the curtains for the windows and find all the cuddly toys, cot beds, and nursery chairs that you hope will make your baby feel right at home.

But keeping them safe as they sleep (hopefully through the night) is the most important thing you can do. And to do that well you need to choose the right mattress, cot and bedding carefully.

It is easy to get confused when it comes to making these choices, as the wide variety of options and price ranges would make your head spin. This guide will ensure your baby is in the best environment possible to ensure a safe night's sleep.

What should they sleep in?
It is recommended that your baby should sleep in the same room as you for the first 6 months. For this reason, the Co-Sleeper option is very popular. By using a Co-Sleeper, you will have peace of mind as your baby will be at arm's reach, beside your bed.
It is not recommended to have a newborn baby sleep in bed with you. There are increased risks due to heavy duvets, babies slipping down underneath them, falling out of the bed, or rolling under you or your partner.

Other sleep options are moses baskets , a cot or cot bed for your little one. We recommend that every newborn baby sleep in a new mattress. There is evidence that there could be an increased risk of Sudden Infant Death Syndrome (SIDS) when a second-hand mattress is used. Never let your new baby sleep on an old mattress. Get a new one as the interior of an already used mattress may have been permanently compressed by the previous baby's weight, making it less comfortable and less effective. And most importantly, less safe. Getting the right size and shape is essential,
too as little limbs can easily get caught in gaps at the sides and ends. That's why we always recommend that any gap should be no more than 3 cm. Remember not to place cots near hot radiators, sunny windows, shelves, ledges or appliances. And never place it beneath a wall-hanging frame (especially one with glass or a mirror).

Sleep Position:
The safest place for your newborn baby to sleep is on their back with their feet to the bottom of their moses basket, crib, co - sleeper, cot or cot bed. This will help prevent Sudden Infant Death Syndrome (SIDS), something none of us like to think about. SIDS is where a baby unexpectedly dies during their sleep for reasons that are still unknown. By practicing safe sleeping measures this will help reduce the risk of SIDS.

Babies should always be placed in this position for every nap and sleep regardless of where they are or what they are using whether it's their bed or a pram.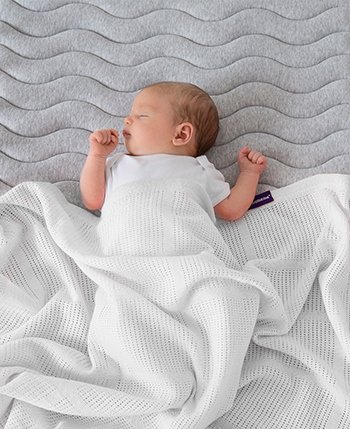 As your little one grows, they may start to move and roll around. You may find that during the night your baby does roll over onto their side or tummy; this is okay and you shouldn't be alarmed. Try moving them back into the right position but don't worry if you find them this way when you wake in the morning.

What Sheets and Blankets should I use?
It is recommended for a newborn baby that you use cellular blankets, with holes as these are fully breathable. Babies are unable to regulate their own temperatures, so it is really important that you only put as many blankets as is recommended for the room's temperature.

The room temperature should be between 16-20 degrees and babies should sleep in a nappy, vest and babygro. Remember that a folded blanket is two layers so it's important to regulate your baby's temperature as they are unable to do so themselves.

You can use a sleeveless baby sleeping bag instead of blankets, but ensure they are low tog, without a hood and the correct size for your baby and conform to current safety standards. These will help keep your little one warm throughout the night as they won't get any chills from kicking their blanket off.

You can check your baby's body temperature by placing your hand on their chest or back. Their little hands and feet will always seem much cooler than their body temperature. Never use a hat when they are sleeping, as babies lose heat through their heads and with it covered could lead to overheating. Duvets and pillows are not recommended to babies under the age of 12 months.

Use of a Monitor:
Depending on the size of your home you will more than likely need to use a baby monitor once your little one goes to sleep. There are a lot of different models on the market each with a different price tag. The most popular ones these days tend to be 'movement and sound' monitors. These have a sensory pad that sits on the mattress under the baby and monitors their movement.

The more basic models offer just sound, and others also have video capability. It is entirely up to you to decide what suits you best. See our full range here.

Before your new baby moves in, here are some top tips:
Careful Crib Notes: Make sure yours meets current government safety standards. The slats shouldn't be more than 2-3 inches apart. Check out the corner posts too - they shouldn't have any decorative knobs or other elements, which could snag your baby's clothing and lead to strangulation or other serious injuries. Check (and regularly recheck) the screws, bolts, and mattress supports to make sure they're not loose or broken.

Be cord-cautious and arrange the nursery room so that the crib, playpen, and other low-standing pieces of furniture are away from the windows. If they're too close, your baby could reach the window cords - a major strangulation hazard.

Toy storage: Store toys in bins or boxes without lids. If your toy chest does have a lid, it should also have a spring-loaded mechanical arm that prevents the lid from falling on your baby's hand or trapping him if he manages to climb inside.

Plugged in: Always put plug protectors in unused electrical outlets. Look for the type that covers the entire outlet plate, since a determined toddler can wiggle individual protectors out of the sockets.

Door details: Buy a gate that screws into the wall or door jamb (pressure-mounted gates may not stand up to a determined toddler). Never use accordion-style gates with V-shaped or diamond-shaped openings.

Minimalism: There should only be two things in your baby's crib: a firm, tight-fitting mattress and a crib sheet.

Avoid changing-table dangers: Store baby powder, lotion, alcohol-based hand gel, and other supplies in a drawer or on a shelf beyond your baby's reach.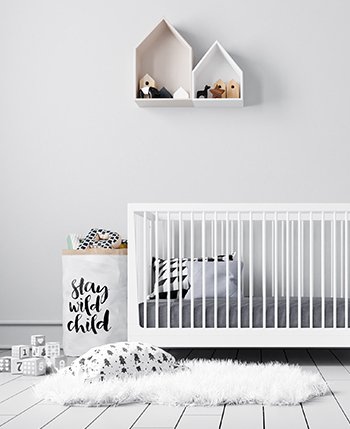 Get savvy about décor and stick to lightweight artwork - mirrors or heavy picture frames could seriously injure your baby if they fell. Avoid decorations with long strings, ribbons, or anything else that could pose a strangulation hazard.

Prevent furniture tip-overs and use braces or anchors to secure tall or heavy pieces of furniture to the wall, no matter how stable they seem to be - the results could be deadly if they topple over onto your baby.

Install a smoke and carbon-monoxide detector outside bedrooms and on each level of your home.

Installing finger-pinch guards on doors. In kids ages 4 and younger, the majority of finger amputations happen because the child's fingers are caught in a door. Install the guards high enough so your child can't pop them out of place.
---
Related posts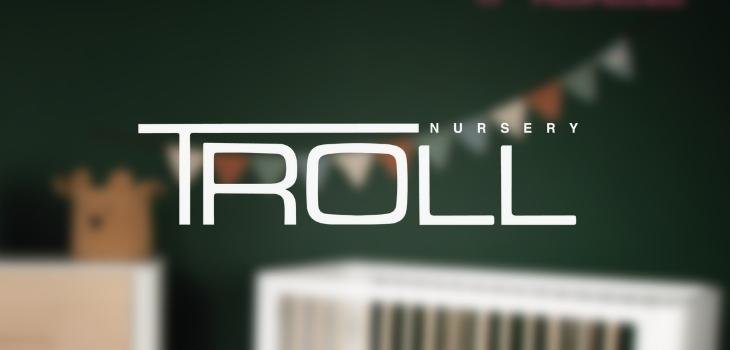 Discover the Troll Furniture Range
posted: 12 April 2022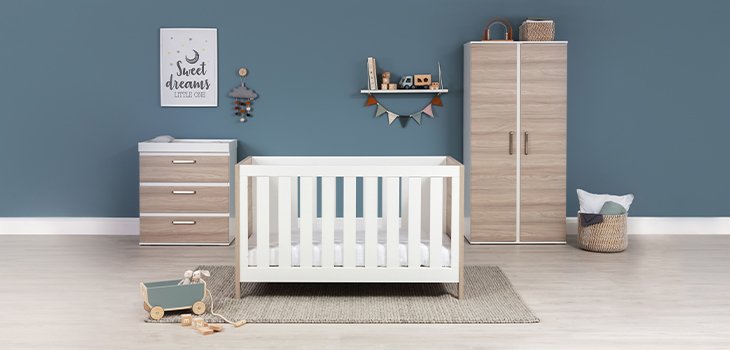 Discover expert advice for preparing your nursery
posted: 28 May 2021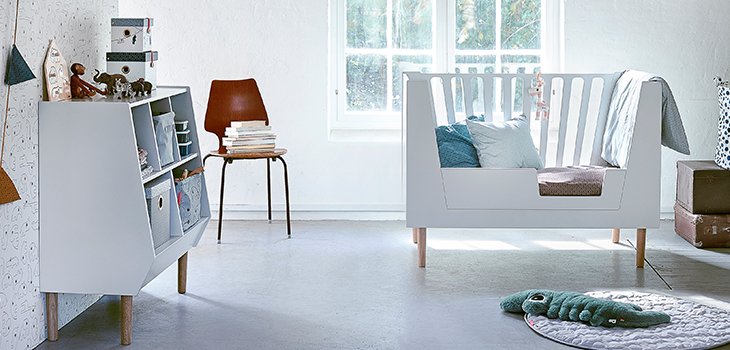 posted: 25 February 2021