Car Seat Safety Guide: What You Need To Know
Posted: 10 December 2020
The correct car seat is one of the most important things you will buy for your baby. Equally as important as selecting the right seat for your child's weight / height it is how the seat is fitted within your car. It is the law in Ireland that all children under 150 cm in height or 36 kgs (79lbs) in weight must use a child restraint system suitable for their height and weight while travelling in a car.* (RSA.ie)

There are currently two safety legislations in place running alongside one another, see our blog post here on car seat regulations explained. They are the ECE R44 and i-Size also known as UN R129.

Your child will need to be in a car seat from the minute they leave hospital up until they are 36 kg or 150 cm approx. 12 yrs of age (many maternity hospitals will not let you leave without proof that you have the correct car restraint for your little one). Buying the correct car seat for both the child and your car is a top priority!

You will need to buy two to three seats for your ever-growing child. Car seats are placed into groups, these groups are based on what weight and height the child is.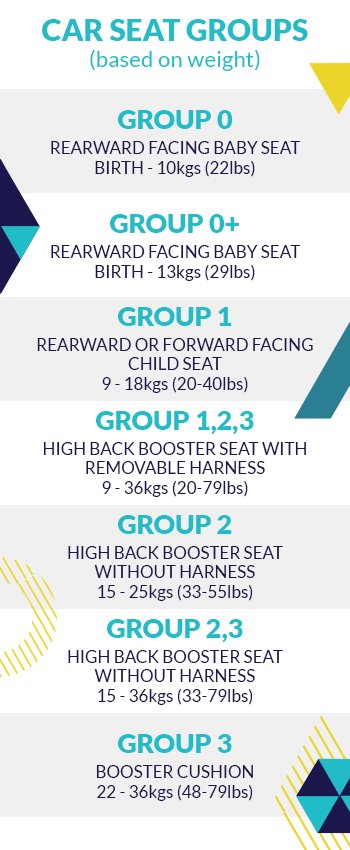 Choosing which Seat:
Choosing the correct seat for your little one and making sure that it is fitted correctly in a car is so important. You must always ensure that you regularly check the seat and how it is fitted.

How do you pick what seat to get? Deciding on the correct seat for your child will depend on their age, weight and sometimes height. All newborns up to 13kg or 15 months (depending on your car seat) must be rear facing, after which time you will have the option to continue with an extended rear facing (ERF) seat or have the child forward facing.

Experts do recommend keeping your child rear facing for longer due to the risk factors and say it can be up to 80% safer for the child. Why? During a frontal impact your child's head and weight will be forced to the front of the car. If they are in a rearward facing seat then this force / weight is absorbed into and distributed into the car seat. If they are forward facing then this weight is sent into the harness and your child's head and neck are thrust forwards. Not the nicest picture to paint, but it is the reality and this is why we recommend that you keep your little one rearward facing for as long as possible.

Click here to watch a crash test demonstration

There are a lot of new words that you will need to become aware of, things like Isofix, i-Size,and a top tether? We have gone through all this terminology here

Fitting the seat correctly:
Not only do you need to ensure that the car seat is the right one for your child, you also need to ensure that the car seat works in your car. There are a few reasons why it might not, usually due to the shape of your seats (can be too bucket shaped) or if your car has under floor storage compartments for example. Most of the large car seat manufacturers have 'Fit Finders' where you can enter the make and model of your car and it will tell you if they are compatible.

Fit Finders:
Fitting and checking your car seat regularly and knowing exactly how to do it is so important. Isofix car seats will eliminate the risk of incorrectly fitting the seat as most will have red and green indicators to let you know when the seat is correctly connected to the isofix fittings or not.

When fitting a car seat with a seat belt it is important to check it and tighten it every 3 to 4 weeks as the belt can become loose over time. Always check and follow the guidelines of the car seats manual or have a trained expert on that seat check it for you. With belt fitted seats you also need to be very aware of what 'buckle crunch' is. This is where the car seats' seat belt buckle is long and it is connecting or brushing off the car seat itself.

Adjusting the Seat as your Child grows:
As your child grows you will need to ensure that the car seats settings are adapted to their new heights.

A lot of Group 0 / Infant Carriers will come with a Newborn insert (a cushion like item that sits under their bum), this needs to be removed after quite a short period of time so please ensure that you check your seats instructions.

You will also need to adjust the internal headrest and harness to suit their growing height and this should be checked every few weeks. The Child's harness should always come from above their shoulder and not behind, this is in case of any impact situation they are not pinned back. The headrest of the seat should cup around the Child's head, with the lowest curve of the headrest sitting in line with the jaw line. The harness should always be as tight as to only allow two fingers side by side not on top of one another against the Child's collarbone.

Other items to note:
The safest place for your baby or child to travel is in the back seat of the car. If this is not possible then you must ensure that the passenger airbag is turned off when using a Group 0 / Infant Carrier / Rearward facing seats. When using a Forward-Facing seat in the front passenger seat then you must put the car's actual passenger seat as far back as it can go, and the airbag active.

It is recommended that you remove any jackets or outerwear before placing your little one in the car seat. This is so that the harness is correctly fitted to your child with the 'two fingers' rule, if they are

wearing a heavily padded jacket then the harness may seem tight and you will loosen it. This will actually leave a large gap between the harness and your child, which will have a serious impact on the seat's performance in a crash situation.

Always check that your car door's child lock is active in the car, before you know it those little arms will be long enough to reach to see what that shiny handle does!!

Finally…. there are so many different types of car seats on the market, and they all have different features such as added side impact protection, memory foam inserts, head supports, air bags – yes there are seats that now have their own airbags!! Like most things this all impacts on the final cost of the seat. Please rest assured that any car seat we stock passes all the required safety standards, and it is due to the additional features and benefits as to why they vary in price.