Buying guide for buying a highchair
Posted: 11 August 2021
Choosing a highchair from so many different options can be just as over whelming as trying to buy your car seat or pushchair. With a vast range to choose from with some suitable from birth and others from 6 months how do you know which one is best for you & your baby?

Well, here is our guide on picking the right one for you

Do you want a chair that your little one can be in from birth, or do you not see them being in one until they are 6 months old?
Ones that are suitable from birth will have a full recline feature on the seat. These are very handy as it means that your little one is at table height to save your back. Another bonus on putting them in a highchair is that they are up off the ground, particularly good when you have four legged friends in the house!

Some highchairs while they may be suitable from 6 months you can add on a newborn attachment or bouncer that will make it suitable from birth. A good example of this is the Hauck Alpha+ highchair, you can purchase the Alpha bouncers separately. The bouncer will then attach onto the highchair frame to create a lovely safe and comfortable sitting environment for your little one.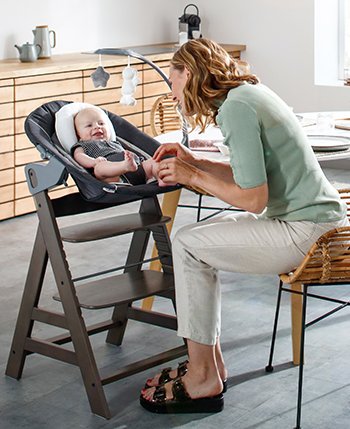 Please note that if your little one is 6 months but not yet sitting unaided then you should probably still look for a highchair suitable from birth as most will have a recline option that will be better suited for your little one. Some will come with various recline tilts and will help baby gradually be able to sit and hold their heads whilst sitting in the chair.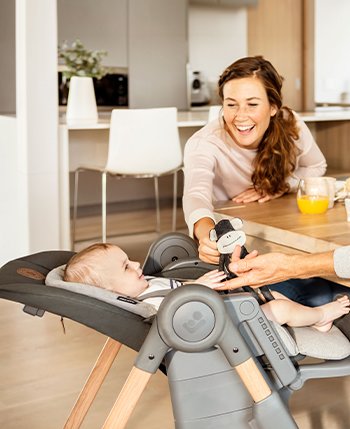 Do you want different height positions?
Check does it have different height positions. Depending on the height of your table or island if you are considering feeding them from either you may need your chair to fit in under the table or up to the height of the island. Some highchairs will come with several adjustable height position to suit your needs.

Do you need it to fold away?
If you are tight on space or dont want to have your highchair as a permanent fixture you may need the chair to fold down to it store away. Be sure to check the dimensions when folded, some highchairs still take up a bit of room when folded, so best to be sure that it will fit into the space you have in mind.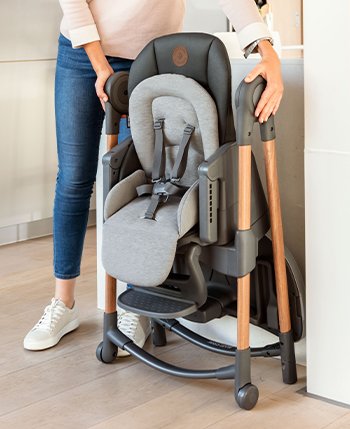 Other points to look out for are:

A removeable tray: this is extremely handy for cleaning and putting baby in and out of the highchair. With a removeable tray baby can be easily placed into the highchair. If the chair doesnt have a removeable tray you will need to place baby in the chair by sliding them down and in to it. This can prove difficult as baby grows bigger and the wriggles become bigger too!

The base width: please check the dimensions of the base width, as some highchairs come with large bases that take up significant floor space. This will come down again to the space you have and where you need the chair to go.

See our full range of highchairs here!Please ensure that a newborn harness is always used, and never leave baby sitting in the chair unattended.
---
Related posts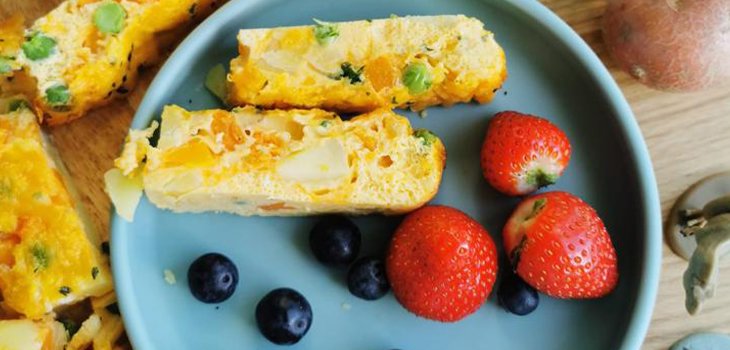 The Naked Blondie Weaning Recipes & Meal Ideas
posted: 11 October 2022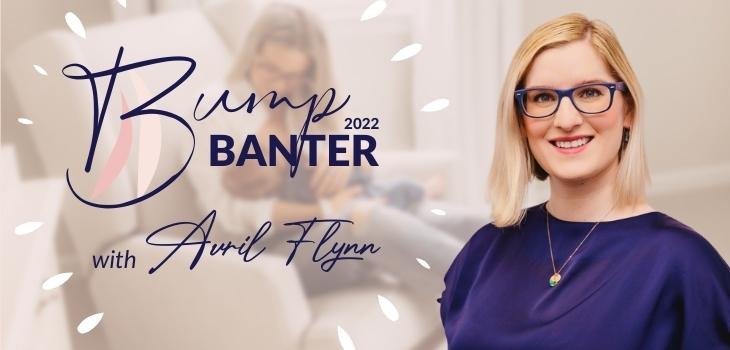 5 Top Tips for Your Breastfeeding Journey
posted: 02 August 2022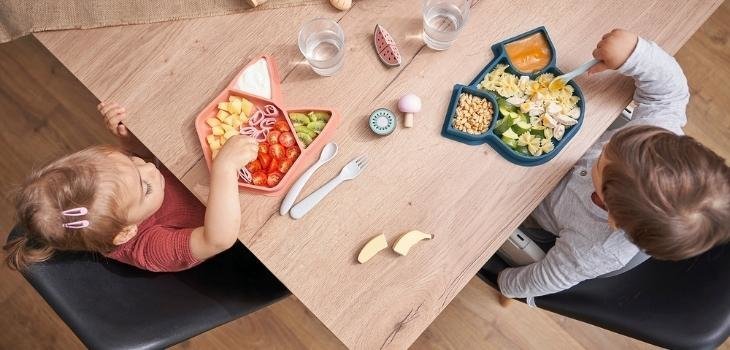 Ready to start weaning? How to aid independent feeding from 6 months.
posted: 04 May 2022